Amateur Inter-Club Championships
Racing Between Clubs since 2008
Although AICC is not specifically a DHO function, there is a very strong connection between it and the DHO. Liz Moore, a prominent DHO member for many years, is a member of the AICC International Committee. The races were started to encourage amateur racers who may have raced as young people and want to continue in a social setting.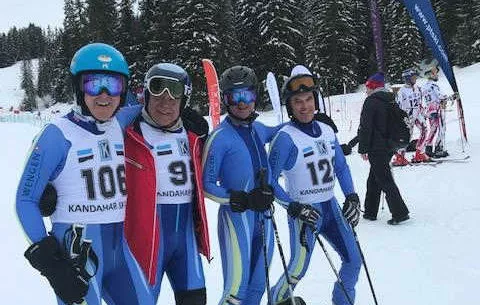 AICC was founded in 2008 by Cleeves Palmer, the President of the Kandahar Ski Club and he remains the AICC President. The races are run each year in a different location. In 2019, the races were run in Mürren. In 2021, it will be the turn of DHO and the races will be run in Wengen. DHO also sponsored the races in 2011.
The AICC races are a fun sporting and social event which brings together keen skiers who normally ski in many different resorts. They are also a good way to get to know a variety of different ski areas.
The races comprise a Giant Slalom and Super Giant Slalom. Mens' and Womens' teams of 3 or 4 competitors from participating clubs race in three age groups, 18-44, 45-59 and over 60. Clubs can enter more than one team in each category. In 2019, 10 DHO teams (40 racers) took part.
Besides Kandahar and DHO, ski clubs in Cortina, Gstaad, Zermatt, Klosters, Lech, Alpbach and Meribel have hosted the races. In 2020. It will be the turn of Flaine. The races are well supported by sponsors.
Racers are responsible for their own entry fees, travel, accommodation and meals. The entry fee for two races is CHF50. DHO may on occasion make a contribution to the entry fees for younger racers. To find out more, see www.interclubski.com, where you'll find all the rules and other details. If you're interested in racing for the DHO, please contact Liz Moore at aicc@downhillonly.com